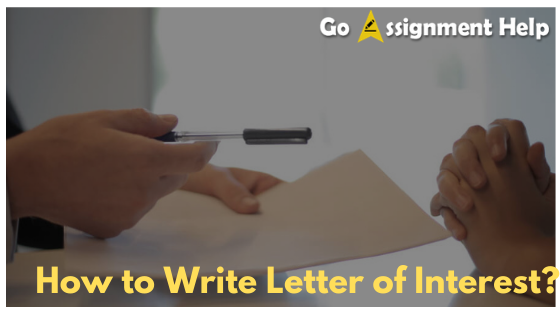 Throughout your academic career, you must have written different letters as a part of your curriculum. Letter writing is indeed an important writing skill to learn as it can land you the job you always wanted. One such letter writing is known as 'letter of interest'. As the name suggests, this letter is written to express one's interest in a certain job opening or voluntary tasks.
What is a letter of interest?
Writing a letter of interest is a perfect way to make an employer notice you out of a bunch of people. A crucial thing to note here is that a letter of interest is not a cover letter. A cover letter is written for a job opening while a letter of interest could be sent to any company even if they do not have a job opening.
A cover letter would state how you would be an asset for that particular job post while a letter of interest would state how you would be an asset for the company. You will include your background details in the letter of interest while in your cover letter you would mention your skills related to that job posting.
Tips on how to write a letter of interest?
Now that you understand what a letter of interest is and what it's not, here are a few more tips on how to write a letter of interest given by GoAssignmentHelp's best writers:
Stay away from making mistakes in your letter like unclear sentences, grammatical errors or spelling mistakes. Double-check your letter before sending it to a company as you would not want to ruin your very first impression.
It is not about what the company can do for you but what you can do for them. So always mention what you would offer to the company as you are the one showing interest in them.
Do not forget to mention your contact information. Otherwise, how would the company contact you if they want to?
In the end, always request for an informational interview where you can meet someone from the company to know more about it and whether there is a job opening.
Write a few lines about your skills. You may also include what degree(s) you have pursued or what your achievements are.
Always mention why you are writing the letter. For instance, "I am writing to inquire whether you have any marketing positions open."
Introduce yourself in a few sentences giving important background details. For instance, "I have been working as marketing manager for a global merchandising store for the last 5 years."
Also, write about how you are going to be an asset to the company. For instance, you can mention your skills, knowledge, prior work experience, or how else you are willing to contribute to the company.
Do not make the letter too long as no one would bother to read such a letter. Write short, crisp and clear.
You should also attach your resume with the letter. Sending only a letter of interest would seem like a half-hearted approach. But, attaching your resume with it would make your point loud and clear.
Research company values and use them in your letter. For instance, you can mention that you are willing to add to the current values of the company, or how your skills are following the current values of the company.
Take the opportunity and follow up! Do not expect a company to contact you. Do not be so pushy but at the same time, it should not look like you are just making a half-hearted attempt.
Letter of Interest Sample
Martha James
123 Main Street, Downtown, CA – 12345
4455-3233-8976
marthajames@gmail.com
Date: 15 Oct 2020
Jane Smith 
Director, Human Resources
National Herald 
123, Business City
CA- 12346
Dear Ms Smith, 
I recently read an article about the National Herald's new online magazine launch and I am writing this letter to inquire if there are any job postings in the marketing area. 
I have seven years of working experience as a Marketing Strategist for a leading online lifestyle magazine in Toronto. During my work tenure, I increased the page views of the website from zero to more than 150%. Our sales also skyrocketed by 50% during this time. 
I have attached my resume with the letter so that you can review my education, work experience and other achievements. I would appreciate it if I could get an opportunity to talk with a member of the marketing team to see how my skills could be beneficial for the company and your new magazine. Thank you for your time. I look forward to hearing from you shortly. 
Sincerely, 
Martha James 
In the above letter, you can see how the applicant has mentioned that they are interested in a position at the company. They have mentioned their work experience, significant achievements and have also attached their resume so that the employer can get to know more about them. Lastly, they have also shown interest in meeting someone from the company to know more about it.
Need more help in writing a letter of interest?
It is your turn to write a letter of interest to your dream company. If you are wondering whether your letter will be able to impress them or not, just connect with GoAssignmentHelp. Our team of expert writers and editors will double-check your letter of interest, give you some personalised tips on how you can enhance your letter and make it more intriguing. We work 24×7, so just connect with our customer support executive right away and make way to your dream job in the right way!