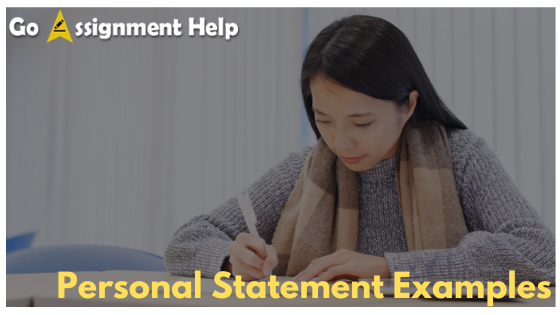 Getting into a well-reputed college is a challenge for many students. It not only requires a great academic record but also the power of words to convince the admissions team. Most colleges and universities now ask students to prepare an admissions essay that should include strong and compelling evidence in the form of their personal statement.
In this post, we have gathered the best examples of personal statements for college students from our advanced assignment writers and editors. Let's see what they have to share with you.
What is a personal statement?
Before you write a personal statement, you must have clarity about what it actually means. As the name suggests, a personal statement should reflect your personal attributes. This may include your skills, values, opinions that encourage you to study in college and pursue a particular career. For instance, you may include attributes such as teamwork, time management etc.
Example 1 – A medical student may have a personal statement like this: 
"From an early age, I feel that the best job in the world is to help mankind and by being a doctor I will be able to fulfil that. Another reason why I want to choose this career is that I am eager to learn about medicines and how they are able to cure human beings. I want to find a cure for the rarest diseases and help humanity."
Personal Statement Example for a course in Art and Designing:
"Art has always been my passion. From an early age, I used to draw and paint. I remember I always wanted my work to be better and better. I believe that my art is my expression. It is how I can speak with the world and this course would help me achieve that in a better way."
Personal Statement Example for a course in Mathematics:
"Everyone fears maths, but I think numbers are my friend. Since the first grade, I have been the topper of my class with the highest scores in mathematics. I have been able to achieve good ranks in national competitions and maths olympiads. Mathematics intrigues me and I believe that one day I will inspire many students to learn maths and not be afraid of it."
Did you notice? How each personal statement includes a reason 'why' the student wants to pursue that career or what's the driving force behind their choice. These statements also reflect that the students possess certain qualities and interest in that particular career.
Robin, one of our personal statement help experts, says that one must be mindful while choosing words for their personal statement. You do not have to overload your personal statement essay with complex vocabulary. Write in a simple yet formal tone. Remove any confusing language or fillers that ruin the flow of your essay.
Do's and Don'ts of personal statements
What should you do in a personal statement?
Always mention your strengths that are relevant to the course. Make sure your qualities actually match what is required of you for that particular career.
Show some enthusiasm for the course you are applying for. The admissions officer must see a clear reason why you should be the one they should admit in their college.
Create several drafts of your personal statement essay before finalising it. This will help you get the best version of your writing.
Do consult a professional assignment writer or editor for your personal statement essay. Their expertise would help you create a grammatically correct and compelling personal statement.
Make your friends and family read your personal statement essay. Ask for their opinions and utilise their feedback to enhance your writing.
What you should not do in a personal statement essay?
Do not copy someone else's personal statement. Many students often take personal statements from the internet, change a few words and submit one by their name. It is not only unethical but unreasonable. Your personal statement should be unique and 100% plagiarism-free.
Do not write something that you are not. For example, many times students mention that they possess skills just because the course demands them. Even if the admissions team would accept your personal statement essay, you would get caught in the interview.
Do not submit your personal statement without editing and proofreading. Many students just rely on a spellchecker and never think of the hidden grammatical errors and punctuation mistakes in their essay.
Do not procrastinate! Make sure that you start early for your personal statement essay so that you have enough time to plan, write, edit and proofread your essay.
More Personal Statement Examples for College Students
Here are some of the best personal statement examples for college students that will inspire you to write a great personal essay of your own:
Computer Science Personal Statement Example
"I am fascinated by how computer programs are becoming so powerful every day. Organisations can solve every problem with a computer program whether it is maintaining the records of their employees or their accounts. It not only requires creativity but also problem-solving skills and analytical abilities, all of which I find intriguing and would be thrilled to master these qualities."
Business and Management Personal Statement Example
"Business skills run in my family as my great grandfather started a business of clothes and merchandise which is still successfully run by my father. I would be thrilled to learn the latest business and management skills so that I can help run my family business successfully."
Website Designing Personal Statement Example
"Websites are necessary for businesses in this era. If you are not online, you are missing out on opportunities of meeting new customers and clients. I believe I have the ability to understand how businesses should be showcased online. I have already been designing web-pages using HTML, JavaScript and CSS. With this course, I will be able to advance my web-designing skills and be a part of this ever-growing industry."
Psychology Personal Statement Example
"From my teenage years, I started looking at the world with a different perspective. My mother has been teaching psychology to high school students for more than ten years now and I often read her books. It intrigues me to read about how our mind works in different situations and how things change as we change our perspective. Human behaviour is nothing less than rocket science and I am eager to learn about it."

Need help in creating a personal statement for your college admissions? Consult our assignment writers, editors and experts right now and get the best assignment help on creating personal statement essays. Our online essay help is available 24/7 for college students.