How to Write an Introduction to an Essay?
How to Write an Introduction to an Essay?
Jan 7,20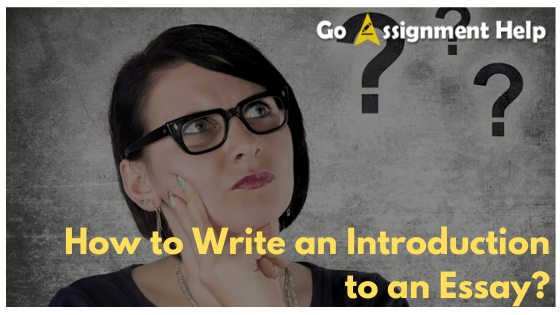 We need to accept it. Unlike news headlines, most academic essays have very boring titles. It means that the introduction of an essay holds a greater responsibility of attracting eyeballs. Besides, they need to serve the academic purposes for which they are written – introducing the topic to the audience, and stating a reason how this particular essay makes a difference in the audience's understanding of the topic.
Why do Essays need Introductions?
Before you sit down to write an essay, you need to research the topic. You might note down some points that you want to put down and some examples or anecdotes to elucidate them. They can make up the body of your essay. The introduction, instead, helps you to transport the reader into the world of your essay. You tell them the issues you are going to talk about and 'hook' them up into reading your essay by using different writing strategies.
While good introductions may vary depending on the academic discipline you are writing about or the type of essay you are writing about, they always remain the 'face' of your essay. A concise and well-written introduction helps you make a good impression right away. On the other hand, a boring introduction full of errors disenchants readers and may even repel them away.
Thus, we can say that an effective introduction serves four basic purposes for an essay, assignment or dissertation:
Catch the attention of the audience (also known as 'hook');
Engage the audience by pointing out how your essay can benefit them;
Establish rapport and credibility with your audience by stating how you researched on the topic or how experienced you are in the field or why you are an expert on the subject; and
Present your main idea (or thesis statement) along with the major points you are going to cover in your essay.
What Constitutes a Good Introduction?
An essay introduction is usually one or two paragraphs long – depending on the length of the essay. Each of the sentences that go in writing an introduction needs to be well-thought of as it can make or break your entire essay writing effort.
That said, three major sections of an introduction can be defined as:
Hook: which is usually the opening statement of your introduction,
Supporting Sentences: which links the hook to your thesis statement or main idea of the essay and then introduce the topic to the readers, and
Core Idea of the Essay: which states what you are going to talk about and throw light on the major points the readers are going to read about in the essay.
6 Ways to Write a Great Hook
As you already know, it's the first sentence of the first paragraph that has to 'hook' the reader and this is where you need to be your creative best. Here are thirteen ways in which you can catch the attention of your readers in the first few words:
Start with a great quote from Literature
Books are indeed your best friends when it comes to writing a great introduction to an essay. Pick up a quote from a well-known classic and readers will know how well-read you are. Let us look at this example:
Terror made me cruel.
~ Wuthering Heights by Emily Brontë
This simple quote can be a great opening to an essay about terrorism and its origins.
Interesting Facts and Trivia make great hooks
An unknown fact can arouse one's curiosity instantly. Here's an example:
Smelling farts can reduce the risk of some of the most dreaded diseases like cancer, stroke, dementia, and arthritis, says a study by the University of Exeter.
Quotes from someone famous never fail to grab the attention of the readers
Humans are hardwired to respect and learn from the wisdom and experience of the experts. So, a quote from someone who is considered an expert in the field always works as a great hook. Look at this example:
Price is what you pay. Value is what you get. 
~ Warren Buffett
Warren Buffett's quotes are great for any essay on investment decisions. Steve Jobs might be a better candidate to talk about gadgets and technology.
Make sure the quotes you use are relevant to your topic.
If your Essay Topic is Unique, use it as your hook
Some essay topics or problem questions are so cool that you can straightaway use them as your hook. For example:
Should courts hold trials for teens who commit heinous crimes (like murder or rape) like adults?
Or
Do you think that students should rate their teachers?
Use Numbers and Statistics to impress your readers
Large numbers or surprising statistics can do the trick too. Here's a great example of a hook for an article on mobile gaming:
It took less than 200 days for PUBG to earn more than $100 million in mobile revenue.
Start with a funny joke or anecdote
Short stories can make an article, essay or speech interesting. Here's a funny one for you:
Albert Einstein and his chauffeur looked similar. One day, Einstein complained that he was too tired to speak in an event. The chauffeur said, "I've listened to you so many times that I think I can handle a speech or two for you." Einstein decided to test the idea and exchanged his hat and coat with the chauffeur. The chauffeur made a perfect speech and could even handle a few basic questions. But he got stuck when an arrogant man tried to show off his knowledge by asking a very difficult question. The chauffeur listened to the question respectfully and then responded calmly, "My dear friend, the answer to your question is so simple that I will let my chauffeur in the back answer it for you."
How GoAssignmentHelp offer your best essay introduction to writing help?
GoAssignmentHelp has a team of assignment helper, subject experts, professional writers, and seasoned editors and proofreaders who have years of experience in writing best essays for school and college students. They can help you write essay introductions that define the problems perfectly, set the scene, and come up with perfect anecdotes or questions to grab the attention of your readers.

They can also introduce you to other ways of writing a great introduction for your essay, such as the ones where they cite a survey or research or write a funnel-type introduction (starting with general statements related to the topic and narrowing down to the specific topic you are writing on).

Contact them now and see how they can raise the level of your essay and help you get the A+ grade you covet.