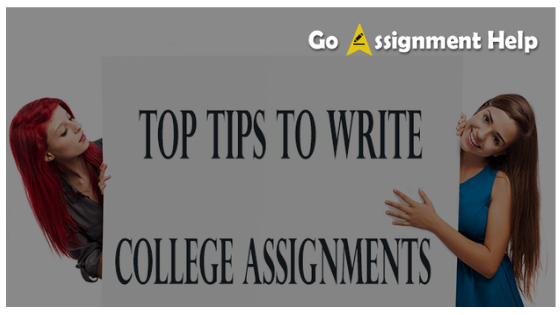 College students are given a plethora of assignments every semester. Some assignments are quite crucial and add up to their final grade. This intensifies the whole process of assignment writing and is the reason why many students feel overwhelmed.
At GoAssignmentHelp, our online assignment help experts deal with a variety of assignment requirements every day. They understand how tough it could be for a student to keep up with the research work, planning, writing and editing of assignments. Therefore, they always bring up new ways of making the assignment writing process easier for students.
Today, we are sharing an easy method of assignment writing with a 7-step-checklist that will help you ensure that your assignment is clear, concise, well-structured and professional. This checklist, created by our native academic writers is the perfect way to ensure that you do not miss out any crucial aspect of assignment writing in college.
The Process of Assignment Writing 
'Assignment' is a broad term. It can be an essay, research paper, dissertation, project report, lab report and any other form of academic writing. But, no matter which type of assignment you get, some general guidelines go with each of them. Once you master those guidelines, it becomes much easier for you to complete your assignment properly. So just drop your worries and let's understand the process.
#1 Understanding The Assignment Topic 
Many times students get so overwhelmed about their assignments that they never pay attention to the assignment instructions carefully. As a result, their assignments are not up to the mark. They often miss out some aspects of the assignment topic which might be important for their teacher and their better grades. Therefore, before you even begin your research, read the assignment question carefully and go through all the instructions. You must have a clear objective in mind regarding the assignment.
If you are unable to find clarity on your assignment topic, consult our assignment help experts. They can help you ensure that you are working in the right direction.
#2 Clarity and Structure 
Before you start writing your assignment, you must prepare a clear structure. Decide what would be the main points of the assignment and how the flow of information will take place. Organize all the arguments in a logical order to ensure complete clarity, just like we have arranged this process of assignment writing step by step. You might research a lot about the topic and get many arguments to put forward. Contemplate on this and ensure that you are moving forward with only the necessary arguments that are closely related to your assignment topic.
You can consult an experienced assignment writer in Australia regarding the structure of your assignment. They can help you communicate your ideas in an organized way and win the best grades.
#3 Writing the Assignment 
As you create your assignment, follow this guide. Establish the base of the topic in the introduction with a clear thesis statement (build up the interest of the reader). Put up clear arguments with appropriate examples in the body paragraphs (attain a peak of ideas and knowledge) and finally, sum up the assignment with an insightful conclusion. All these parts should be distinct from each other and yet connect the whole write-up.
"Most of the freshmen year students deviate in the body paragraphs as they are not used to extensive writing. They sometimes present scattered ideas which show a lack of coherence and structure. We help them in identifying such mistakes and ensure that they maintain focus throughout the assignment," says Pete, who is one of our dissertation experts in Melbourne.
#4 Presentation of the Assignment 
A sloppy assignment would never get you an A grade. You need to showcase that you are a professional who understands the ethics of academic writing. This includes proper referencing and citation. Look out for the margins and line spacing. Page numbers and appropriate headers also put a nice impression. At last, do not forget to add a cover sheet of your assignment that clearly states your name and other information along with the title of your assignment.
Wondering how will you make it happen? Our assignment writers can help you in polishing your assignment and make it submission-ready in no time. They have helped thousands of students in Australia, of various backgrounds and educational levels in elevating the quality of their assignments.
College Assignment Checklist 
If you are creating your assignment from scratch, these four major points stated above will put you in the right direction. Once you have written your assignment whether it be an essay or a research paper, just use this checklist to ensure that you have covered all the basic yet important elements of academic writing.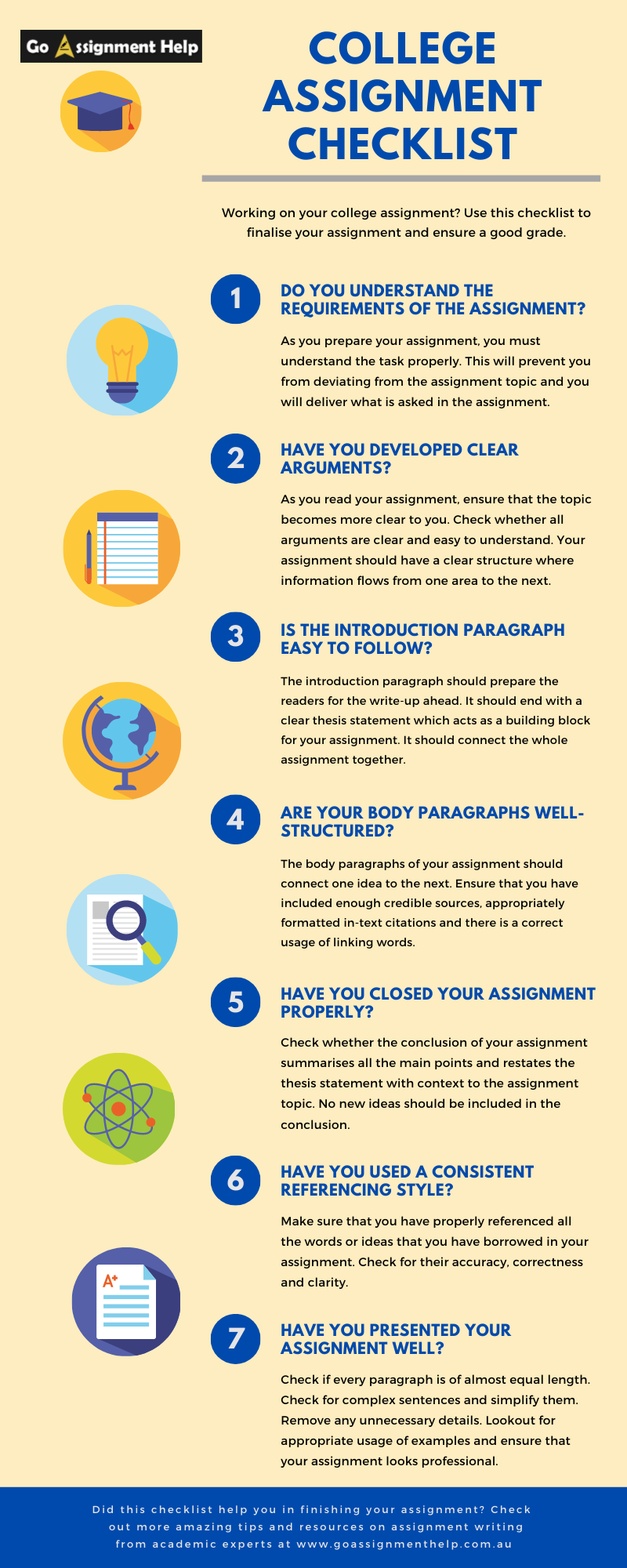 In case you need any further assistance on how to create an impactful assignment, do not hesitate in contacting our assignment writing experts. Our assignment help experts and subject specialists hail from the top Australian universities including RMIT, University of Melbourne, University of Sydney, Monash University, UNSW and many more! Their prominent experience with college assignments will help you find your way through college with superb grades.